Printed document, occasionally displayed small decorative engraving. Originally one page, approximately 7 1/2″ x 12C; later (ca. 1850s) evolved into a four-page format, approximately 8″ x 13″ and was often printed on the blue-gray paper common to the period. Customs seal might also be found.
A Bill of Sale is the true and proper instrument of title to a ship to which all maritime courts looked for proof of ownership. The usual evidence of such property is the Bill of Sale along with the register or enrollment. Accordingly, a copy of the registry or Enrollment Certificate is usually incorporated into the Bill of Sale document. A Bill of Sale provided the following information: The name and description of the vessel, when and where it was built, the names of the buyer and seller, the portion sold and the purchase price, the place of registry or enrollment, the names of all current owners, the number of the new register or enrollment along with a reference to the previous certificate which this particular Bill of Sale invalidated. By the act of 29 July 1850, custom houses were made the recording agency for all papers affecting the title to vessels. Bills of Sale are frequently found in maritime collections. Since it was not unusual for someone who was otherwise not directly connected to the maritime industry to own shares in one or more ships, these documents occasionally appear in other business or private papers. They are important sources for maritime research.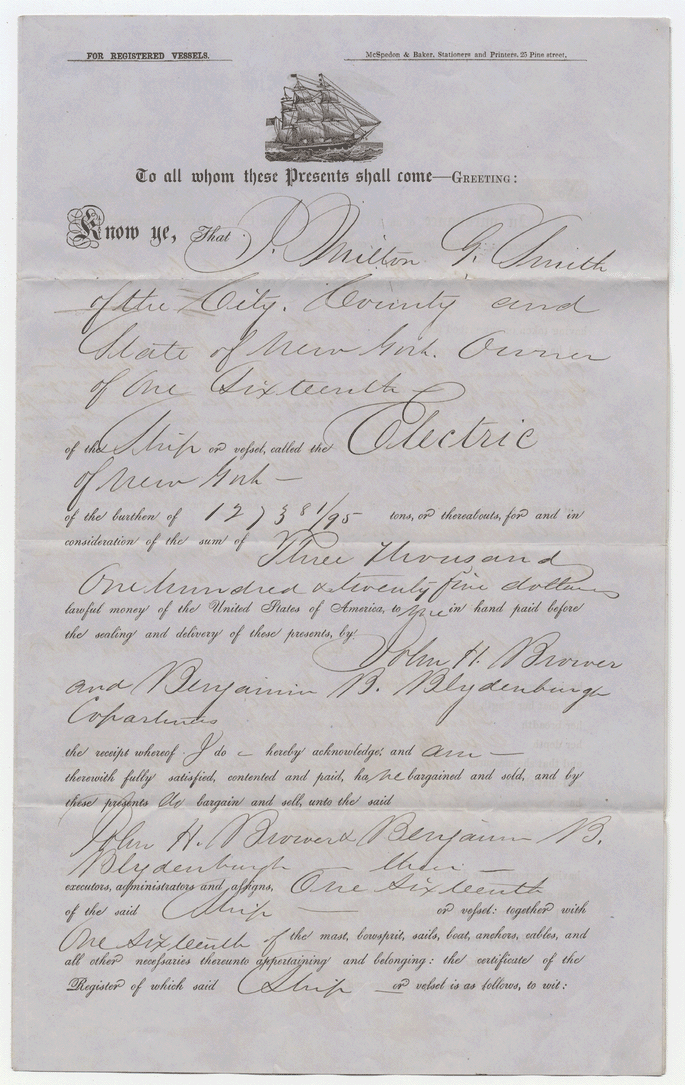 The four-page format for a Bill of Sale was commonly used by the mid-nineteenth century. The first page, illustrated here, is typical of the format and language found on these documents.