Often printed on heavy grade card stock, 4″ X 6 1/2″ being a common size. Many examples feature elaborate engraved scenes, and contain as many as seven different colors. The reverse side is usually blank.
Sailing Cards and announcements are not truly manuscript items; however, they are significant maritime documents.
Agents or owners commonly advertised the availability and loading of their vessels in the local newspapers, but by the mid-1850s the colorful Sailing Cards began to appear in the windows of shipping firms, banks, and public shops along the waterfronts in ports like New York and Boston. These cards might be printed several days prior to the anticipated departure, in order to secure last-minute cargo or passengers. Initially a specific sailing date was not included on the card, although some later examples do state the ship would sail "on or about" a certain day. Sailing Cards then, are difficult to date accurately, but it seems that many of the vessels represented on these eye-catching advertisements flourished between the 1850s and the 1880s. Many of the early card announcements were used primarily to advertise sailings to California following the discovery of gold there in 1849. Consequently, I have heard them often referred to as "Clipped Ship Sailing Cards." Evidence would indicate, however, that they continued to be used long after the preeminence of the Clipper (and gold fever) had passed. Despite this lengthy period of use, Sailing Cards are relatively scarce. They are popular collectables, and frequently command a high value in the open market.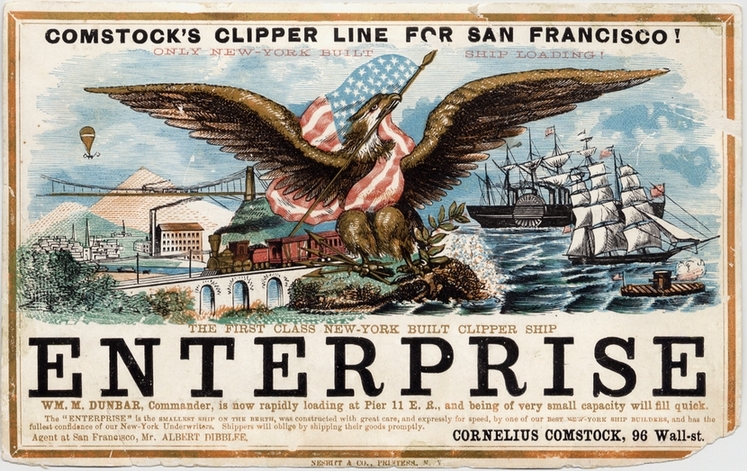 Sailing Card for the "New York built Clipper Ship Enterprise" reveals the highly detailed engraving often found on these announcements.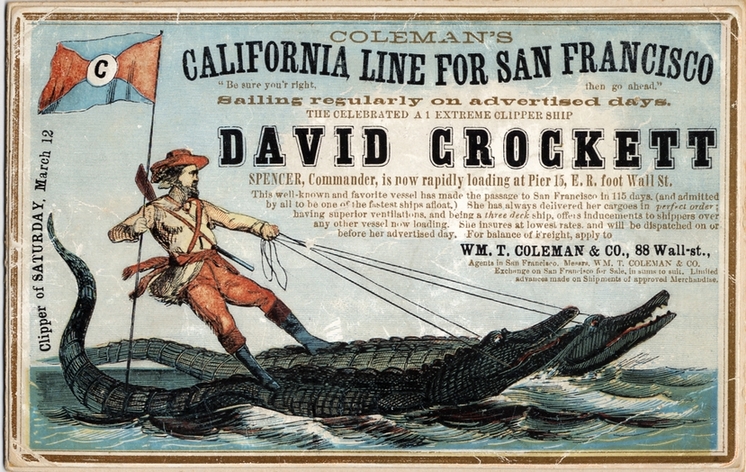 Sailing Card for the "David Crockett"