A recent acquisition by the Library has links to both the local area and our own collections. The document pictured below, a Mediterranean Passport, pertains to the ship ORRIS of New York in 1809. The ORRIS was built in Old Mystic with Christopher Leeds as the master carpenter. She measured 249 tons and was 87 feet in length. The signature at the bottom right belongs to the collector of the port of New York, David Gelston, whose digitized collection of papers is in our library.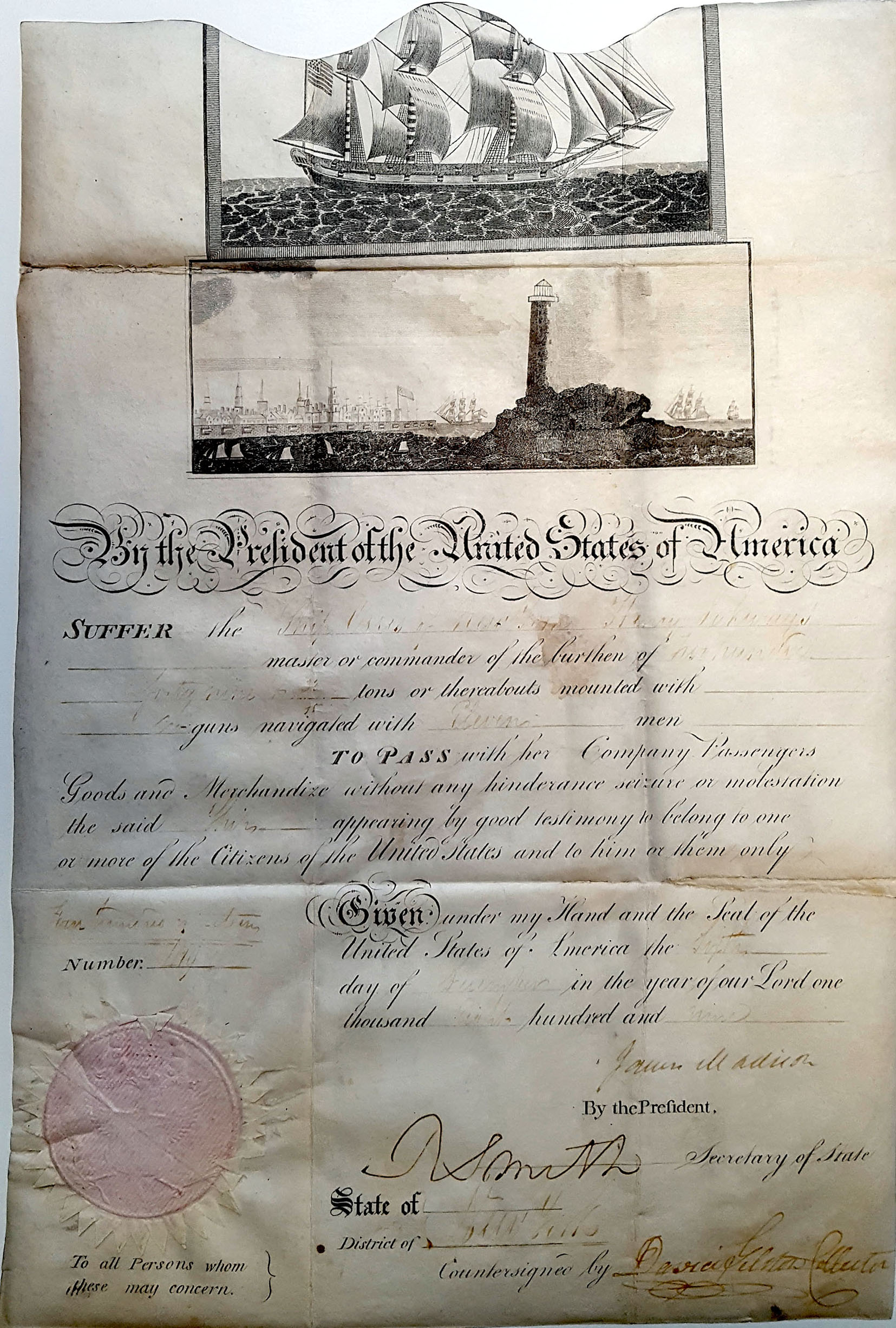 According to Doug Stein's American Maritime Documents:
"The Mediterranean Passport, commonly called a ship's passport, was created after the United States concluded a treaty with Algiers in 1795. During the early years of independence, America was one of several nations paying tribute to the Barbary states in exchange for the ability to sail and conduct business in the Mediterranean area without interference..…the "Passport" would be recognized by Algeria and later by other Barbary states through similar treaties……
…it was a printed document, on vellum, that measured approximately 15″  by 11″. Centered in the upper half were two engravings, one below the other. Signatures of the President of the United States, Secretary of State, and Customs Collector appear in the lower right-hand corner. The United States seal is in the lower left-hand corner."
A distinct characteristic "was the presence of a scalloped line of indenture across the upper part of the document which was used as a method of authentication."
Although faded, you can see that our example has the signature of the President, James Madison, the Secretary of State, Robert Smith and the Collector of Customs for the port of New York, David Gelston.