The two paintings below are a recent acquisition via bequest from the estate of Barbara Snow Delaney, former managing editor of Antiques Magazine. Barbara and husband Edmund T. Delaney were very socially active in the Chester, CT community for many years, establishing the historical society among their activities. According to Barbara's will, the paintings represent Stonington whaling Captain George Seymore Brewster and his wife Mary Lockwood Clark Brewster. It certainly appears that the portraits were executed at different times by two different hands, but likely in the 1840's.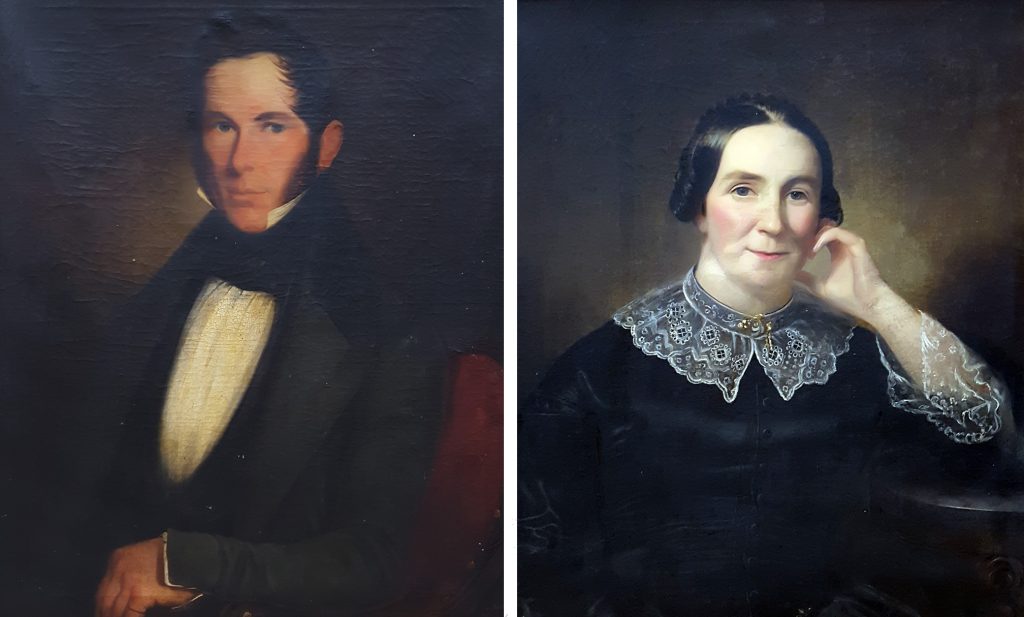 George S. Brewster was from a family of seafaring men and two of his brothers also made their living as captains of whaleships. George's brother William was also married to a woman named Mary who has become well known in maritime circles because of her writings as she sailed with her husband during his whaling career. And surprise! George's brother Charles was married to a woman named…..Mary. Dinner talk must have been confusing when all three couples got together.
George S. Brewster, born in 1811, supposedly started his career in sailing vessels at the early age of 9, according to his obituary in the Stonington Mirror in 1882. Connecticut crew lists show him at the age of 13 as part of the crew of the sealing brig ALABAMA PACKET. During his career George commanded five different whaleships, the FELLOWES, FRANCIS, GEORGE, HELVETIUS and PHILETUS. The HELVETIUS was stranded off Oahu and was a total loss. Interestingly, each of the three brothers were in command of the PHILETUS during their careers.
George met an unusual and press worthy demise in August of 1882. He and his two brother captains were to be pall bearers at the funeral of their Aunt Lydia Chesebro who died at the age of 92. At this time George was a selectman of Stonington and after standing to say a few words about his aunt and her upstanding character, George went back to his pew, sat down, and died. His death caused quite a stir in the church and later in the community. His brothers went about the business of burying their aunt and then returned to the church to bear their brother back to his home where he was prepared for his own funeral.