During the 1880's and 1890's, silver yachting trophies were often presented to clubs by influential members. There were Goelet Cups named for New York land baron Ogden Goelet. The famous Astor cups were contributed by John Jacob Astor. As time went on, the trophies seemed to get more ornate, gaudy and expensive. The bigger clubs obviously seemed to have some of the more elaborate silver pieces.
However, one of our most lavishly decorated trophies belonged to a club that did not have the reputation or membership numbers of clubs such as the New York Yacht Club. The Palladium Trophy seen here was not for a transatlantic race or a race of major schooners, but for a race among sandbaggers. The sandbagger STRANGER, at 27 feet in length with a two foot draft, won the trophy in 1887, 1888 and 1889. Not a bad piece of hardware for the owner of a small racing boat.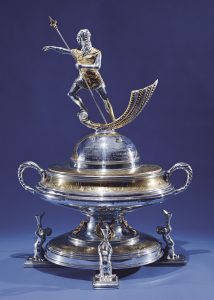 This sandbagger trophy was originally donated by the "Palladium", the forerunner of the "New Haven Register". When the New Haven Yacht Club closed in the 1940's, this trophy was given to the club's last commodore, William G. Newton. It was then donated to Mystic Seaport in 1957 and accepted by then-curator Edouard Stackpole. This magnificent piece is inscribed "New Haven Yacht Club/ Fall Regatta, Oct. 6th 1887/ Won by Sloop "Stranger"/ 7th Annual Spring Regatta June 12th 1888/ Won by Sloop "Stranger"/ 8th Annual Regatta (Re-sailed) July 18th 1889/ Won by Sloop "Stranger".
It is gold-lined, on 4 feet, each with a dolphin-tailed figure of a boy blowing a horn. The bowl measures 17-1/4″ from foot to foot and is 14-1/4″ in diameter. It has an overall height of 26-1/4″. Atop the piece is a 9-1/2″ high figure of Neptune with a raised trident standing in a gold-lined shell atop the cover. He has an armor skirt and shoulder scarf which are gold. Both the base and the bowl have borders of sailboats and the cover is even more ornate with a floral design. The hallmark for the trophy reads "Rogers Smith/ & Co/ Meriden/ Quadruple/ 2000." It is truly a sight to behold.