Two small collections of papers in the G.W. Blunt White Library illuminate how United States merchantmen trading with Europe faced many obstacles during the early 19th century as continual warfare convulsed the continent.  France's emperor, Napoleon Bonaparte, issued the so-called Berlin Decree in 1806 that tried to blockade any trade, including that of neutral nations, with Britain. The British responded with a policy that allowed neutral ships to trade with the Continent only if they first touched at British ports, discharged their cargoes and paid a tax for an export license. In response, Napoleon then issued the Milan Decrees in 1807 that ordered that any ships that had touched British ports before sailing into French, or its allies' territorial waters, be seized and condemned.
Neutral shipping, most importantly that of the United States, faced the dilemma of being seized by the Royal Navy if they failed to touch on a British port and pay the tax before proceeding to the Continent, or seized by the French or its allies if they did. This was the difficult situation faced by the United States ship Commerce in 1806 and 1807, and the merchant vessel North America and 26 other vessels in 1809-1810.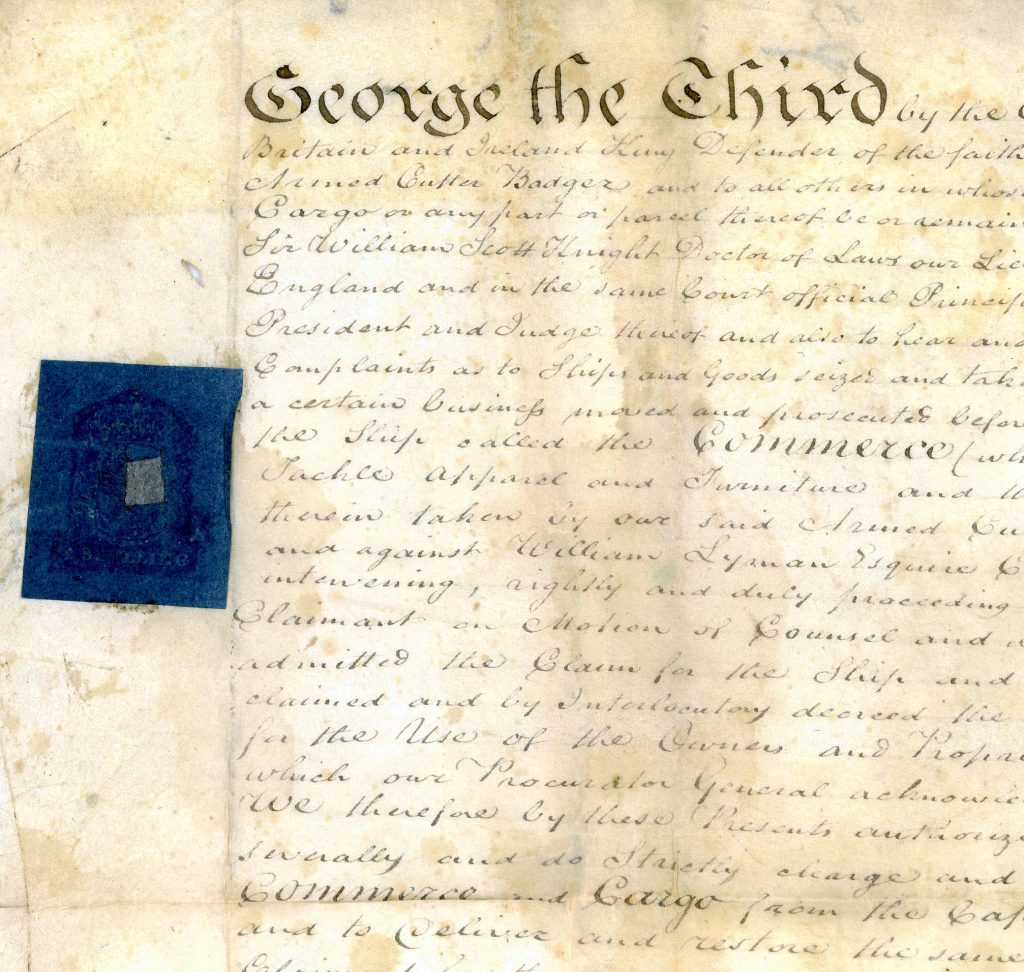 In the first case, the Commerce sailed from Boston to Lisbon with a cargo of grain and merchandise. Cognizant of the dangers of carrying on trade in a wartime environment, the Commerce first made landfall in England and secured from the Government of George III a safe passage document.  The ship proceeded to Lisbon without further incident and loaded a new cargo for Antwerp.  Twice on the voyage British ships stopped the Commerce, but allowed it to proceed.  Intercepted for a third time, however, the ship was captured by another British naval vessel and taken to England where it was detained until its case was resolved.  The Commerce, and others, were caught in the confusing decrees and counter-decrees of the French and British.
In 1807 the Commerce once again set sail from Boston for Livorno, a customs free city in the Grand Duchy of Tuscany.  Upon leaving Livorno with a new cargo the ship was seized by a Russian privateer and taken to the Island of Corfu, where it was condemned.  Russia, of course, was at war with France.  It was determined that the Commerce had unwittingly taken on a cargo of wheat in Livorno that had originated in Naples, a satellite kingdom of Napoleon.  Legal proceedings taken against Russia by the United States in defense of American shipping dragged on until 1828 when the czar's government agreed to pay an indemnity of 50,000 rubles.
In the case of the merchant vessel North America, in 1809 it was seized, captured and detained in Norway.  The Kingdom of Denmark and Norway (united from 1536-1814) had been allied with the French since 1807 which is why they intercepted and seized neutral shipping.  Court proceedings then determined if they had violated French decrees or if they were not in fact neutral vessels.  If the Danish court was satisfied with the vessel's papers they were cleared to trade.  But if it was determined that they had touched at a British port or if the ships were not owned by a neutral country they were condemned and their ships and cargoes forfeited. The North America was one of 26 United States vessels detained in Norway at the time.  In this instance, letters regarding the seizure were written by Samuel Longfellow, uncle of Henry Wadsworth Longfellow, to his father Stephen and his brother in Gorham, Maine and John Quincy Adams was enlisted in attempts to free the ships.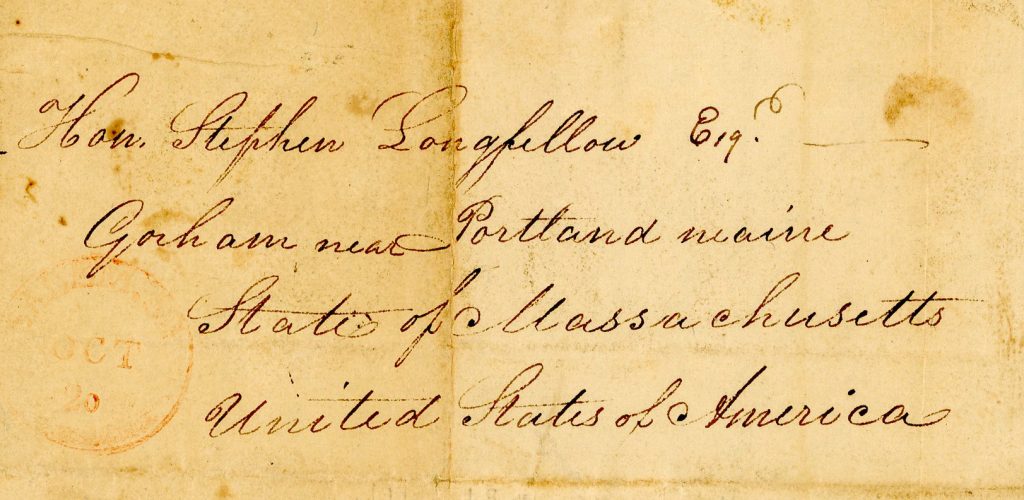 These few instances allow an insight into the larger problem of neutral trade in wartime and the profound disruptions to commerce that ensued.
Thank you to Dr. Paul Goodwin, Library volunteer.