One hundred years ago this month, in November of 1917, America suffered its first casualties on the battlefields of Europe. During the one year that the United States would be engaged in the war, over 100,000 Americans would lose their lives with nearly twice as many being wounded. The war to end all wars required a  tremendous amount of ships to get those American troops and wartime supplies to the allies on the continent.
The U.S. Shipping Board, organized in 1916 to regulate U.S. merchant shipping, created the Emergency Fleet Corporation in 1917 once the U.S entered the war. The EFC was created specifically to oversee the vast shipbuilding programs that would be needed during the war. In its early stages, the EFC was managed by General George Goethals of Panama Canal fame. However, infighting, corruption and other problems plagued the organization and millionaire Edward Hurley was eventually brought in as chairman to create some stability.
In addition to building ships for the war effort, one thing the U.S. Shipping Board and Emergency Fleet Corporation did very well was to hire artists to create dramatic propaganda posters to raise money to support U.S endeavors. The poster seen below was produced by artist James Henry Daugherty who trained at the Corcoran Gallery in Washington D.C. Interestingly enough, Daugherty became best known for writing and illustrating children's books, winning both the Caldecott and Newbury awards during his lifetime.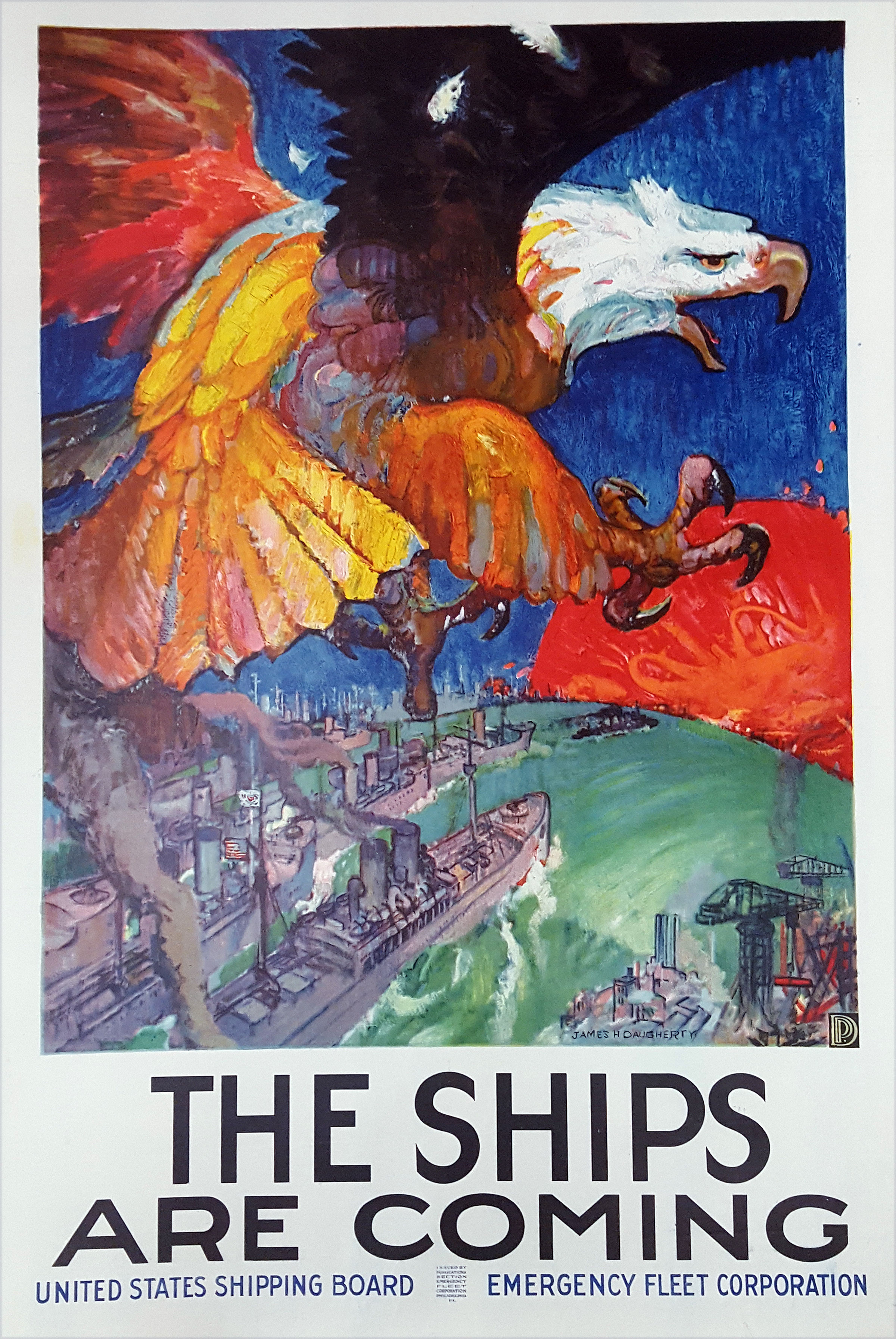 Other heroic posters showing shipbuilders, soldiers and sailors created for the period included titles such as "Rivets are Bayonets, Drive Them Home!"; "Teamwork Builds Ships"; "On the Job for Victory"; "Make Every Minute Count for Pershing." And many more.
While the EFC and the Shipping Board continued to have managerial problems after the war, many of the artists went on to bigger and better things as evidenced by Daugherty's success.