Literally thousands of people over the years have built models of the CHARLES W. MORGAN. Some makers used kits to build full-rigged models of the whaler, including at least one kit that was made for a "MORGAN in the bottle" model. We have one kit in our collection that was originally produced in 1939. MORGAN plans are one of our hottest sellers in the Ships Plans collection and many have used the lines from here to make their own hand-crafted version of the pride of our Museum. We field calls weekly from people who want to donate their, or their family member's, home-made model. Unfortunately, the Museum only has so much space to house models and if we accepted every MORGAN model offered to us we'd have no room for any other model, and we have nearly a thousand. Any MORGAN model we accept has to be truly exceptional. For example, we have one that was given to us a number of years ago that was made by master model maker Lloyd McCaffrey.
Lloyd's miniature cutaway model is extraordinary, with exposed interior accommodations and a center section of built-up frames all of which are treenail fastened. The mid-ship section shows interior ceiling planks installed and authentic stowage of gear and whale oil casks.  On deck includes all appropriate furniture, fittings and details (binnacle, skylights, anchors, companionways, windlass, hatches, tryworks, cooper's bench, etc). It is a truly magnificent piece and any maritime museum would be thrilled to have it.
We feel the same way about a new MORGAN model that just came in to us from a California collector and member. This model is more than a model. The creator of this model was highlighted in an article in the Fall/Winter issue of Mystic Seaport Magazine by Curator Fred Calabretta. In the article Fred quotes the model maker, Alexander Law, as stating that he feels his models are more akin to marine fine arts because of the detail he puts into the map making that graces the base under the model; the research that goes into creating the model and the scene; the cabinetry work to create the base and more. We have a fine collection of Law models that came to the Museum in 1961, so it is very satisfying to add one of the Museum's flagship, the CHARLES W. MORGAN, this year.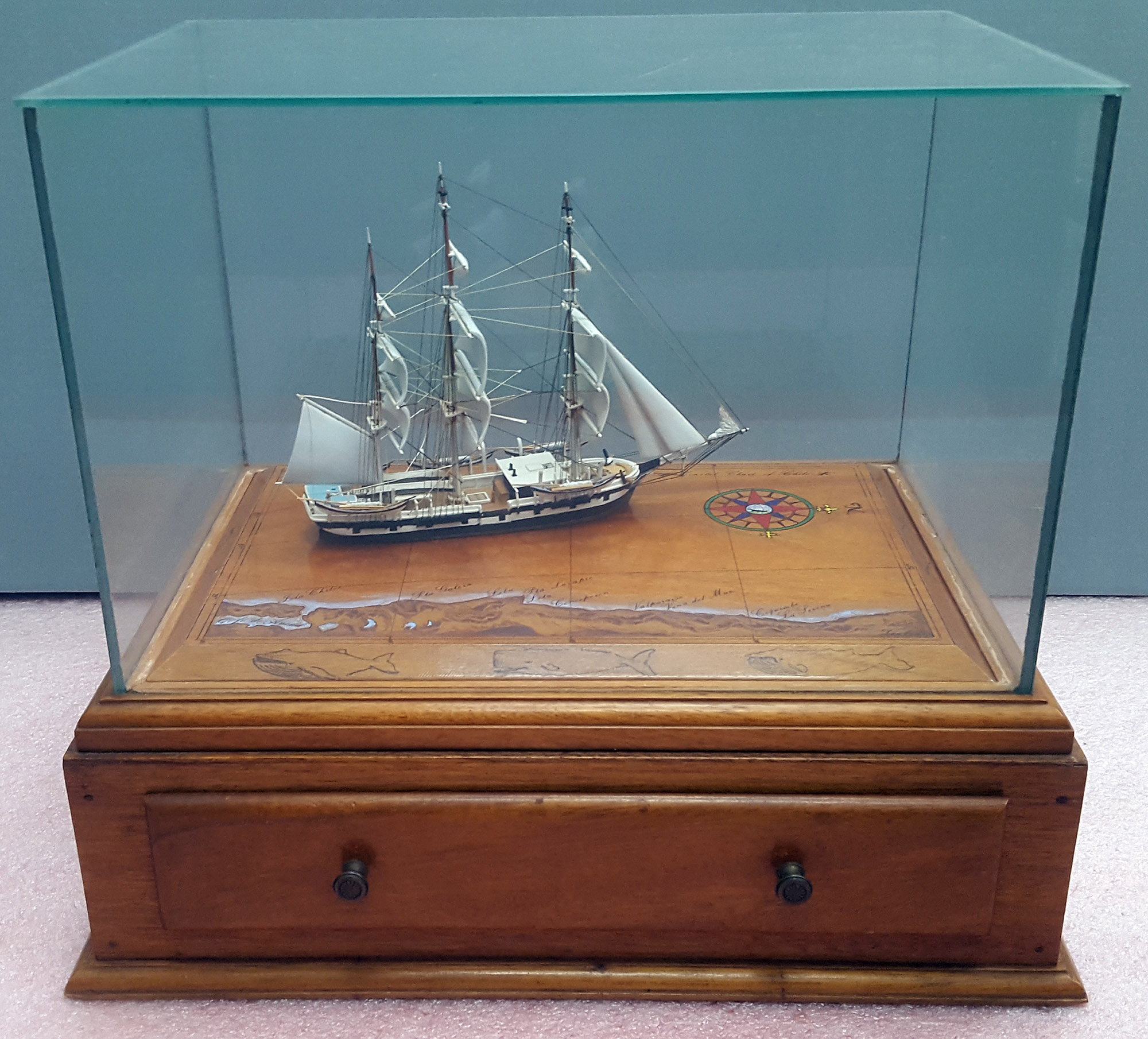 Dozens of museums around the globe have exquisite models of the MORGAN, making her one of the best-known vessels in the world. Go to the website for the 38th voyage of the MORGAN and you can see why so many people remain excited about this icon of American sea voyaging, and why we are excited to have such a fine representation of the whaler in miniature.